From warehousing to innovative transport and cross-docking services, ECS delivers sustainable and cost-effective end-to-end supply chain solutions across Europe and the UK and Ireland.
Zeebrugge is the "most central place in the UK"
From our headquarters in Zeebrugge, your goods swiftly reach all UK destinations. Because we sail to the nearest port and only do the last mile by road, our customers save many kilometers on the road, getting anywhere in the UK quickly and reliably. With 10 sailings per day from Zeebrugge, ECS provides the ultimate flexibility.
Compared to the classic route via Calais, our customers save time, costs and CO²
More efficient routes
Larger trailers
Optimisation through consolidation
Value added logistics, from transportation to warehousing
As experts in logistics, we provide one-stop shop solutions to optimize our customers' end-to-end supply chain. Analysing the complete flow of your goods, we develop a supply chain tailored to your needs, from transportation in Europe, to warehousing and delivery in the UK. Using automatic skimming robots, we transform your pallets to have the maximum filling level on the continent, while meeting every retail requirement and any other standards regarding pallet height. In addition, we also offer repackaging, re-stacking and other bespoke supply chain services, enabling producers to focus on an optimal production process.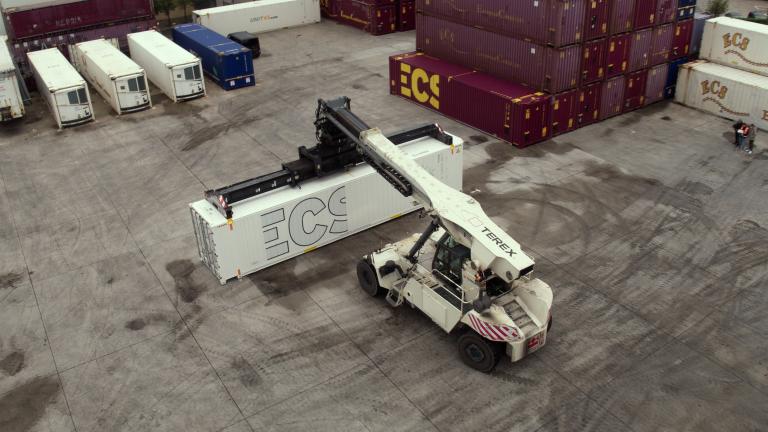 Optimized FMCG strategies for retail
We are a preferred partner of the retail industry, building tailor-made FMCG product supply strategies. ECS processes orders from all major UK retailers on a daily basis, and guaranteeing delivery within 48h. Building a multi-supplier and multi-retailer setup, we ensure retailers find all their products centralised in one place, avoiding unnecessary stocks in UK warehouses. Producers benefit the same advantages, as they can centralize their stock in one place for all retailers.
Time and cost saving consolidation
As we process orders from all retailers on a daily basis, we are able to constantly optimize the filling of our trailers and containers, based on the retail orders. Benefiting of a multi-supplier, multi-retailer setup, we are able to use this mix to combine heavy and light products and thus limit the number of shipments. Our fleet of Super Mega Trailers with an interior height of 3m60, allows us extra high consolidation, thus reducing the number of trucks needed by 30%, saving both time and costs.
Strategically connected
As our rail connected warehouses are spread across Belgium, France, and the UK, we can guarantee a fast transit time, an excellent performance and just-in-time delivery. We distribute into France and the Benelux via the trimodal terminal in Dourges, where we have a warehouse of over 65.000 pallets.
8 daily trains depart/arrive from the terminal to different destinations in France and Spain
Daily connections with Zeebrugge, Antwerpen, Rotterdam & Le Havre
Connected via barges for in & outbound of slow moving flows
From our warehouse in Manchester, where we run 24/7 operations, we provide pallet distribution to the main UK retailers. Ideally located for flows to and from Ireland, it is also short-sea connected to Spain & Portugal.