ECS has fitted 76 of its 220 refrigerated semi-trailers with solar panels, significantly reducing the fuel consumption and CO2 footprint of the reefer units. This results in annual savings of 1.000 liters of fuel per trailer, and a reduction in CO2 emissions by no less than 2.000 tons in 10 years.
These solar panels fit perfectly into what we consider the core of our mission, to create sustainable and reliable logistics. We constantly strive to provide cost-effective, reliable and environmentally friendly logistics solutions. We call this CSR Logistics: Creating Sustainable & Reliable Logistics.
The refrigerated trailers equipped with solar panels will have a source of sustainable power en route, extending battery life and reducing both fuel consumption and CO2 emissions. In this way, we not only increase our operational efficiency, but at the same time reduce the ecological footprint and contribute to our strategic sustainability goals.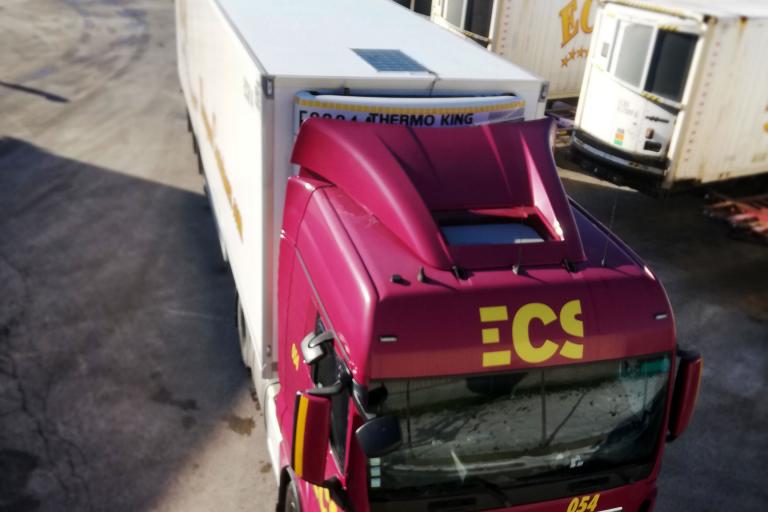 "As a logistics service provider, ECS recognizes the environmental impact of our activity, and we have always taken responsibility to minimise this impact. Focus on and improvement of sustainability has always been part of our daily operations and strategic decisions," emphasizes Jonas Van Den Broucke, technical fleet manager at ECS.
ECS started with a six-month test, in which four  fridge trailers equipped with solar panels were followed on four different routes through Europe. The tracking system allowed us to remotely monitor battery charge and fuel consumption. We compared the results with the performance of four other trailers in our fleet, on similar routes but without a solar panel. We were able to demonstrate that the installation of solar panels saves up to 1.000 liters of fuel per year per trailer. The rest of our fleet will be renewed in the coming years and systematically equipped with solar panels.