ECS consolidates its position as market leader in supply chain logistics and intermodal transport after successful integration of 2XL
Zeebrugge, 2 April 2021 - ECS, the market leader in supply chain logistics and intermodal transport solutions, is consolidating its position within the European logistics market. Four years after the acquisition of competitor 2XL, the transition to a unified company has been successfully completed, despite the turbulent Brexit situation. ECS is explicitly profiling itself as a trade gateway between the European Union and the United Kingdom and also sees the opportunity for expansion elsewhere in Europe. The mark of 10,000 owned containers has been passed.
ECS started its logistics activities in Zeebrugge in the mid-nineties and is now active in 35 countries. Through the acquisition of 2XL, also established in Zeebrugge, the centre of gravity came to lie even more in the North Sea port, in addition to the second head office in Venlo as a logistics hub in the Netherlands. As a result, relations with the United Kingdom are becoming even more important. "Because of the Brexit, we have necessarily become a specialist in terms of trade with the United Kingdom," says Pieter Balcaen. He is co-CEO of ECS together with Kelly De Dijcker. "Now that the acquisition of 2XL is fully completed and we have integrated and unified all departments, we are even stronger as a trade gateway between the UK and the European Union with two products: supply chain optimisation and intermodal full loads."
"
Now that the acquisition of 2XL is fully completed and we have integrated and unified all departments, we are even stronger as a trade gateway between the UK and the European Union
"
Pieter Balcaen, CEO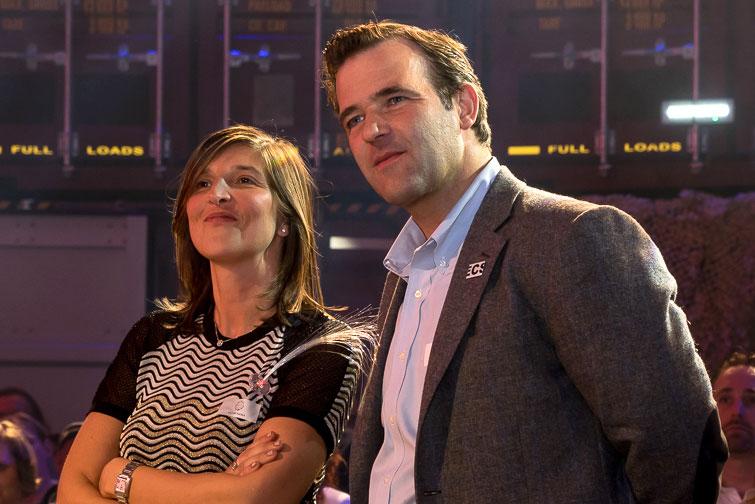 An acquisition of this magnitude is not a matter of course, as Balcaen knows. "Many takeovers fail, or result in two or more players working side by side but not united. This integration has succeeded, despite the difficult circumstances brought about by the Brexit." During the acquisition, the name ECS2XL was used temporarily, but now we choose ECS with conviction. "We wanted one brand name that we could stand behind as a strengthened, unified company. In the end, after an extensive - and at times all too creative - process, we opted for ECS, the well-known name that guarantees reliability and trust," Balcaen explains.
Diversification and increase in scale
For ECS, the completed takeover already offers several advantages: first of all, the combination of all talented and motivated employees allows us to offer a more diversified service. "We can now ship more efficiently, consolidate and offer total solutions, for example to the British retail market and the European wholesale shippers. This ranges from customised deliveries for supermarkets to mass deliveries of goods via our own rail transport or individual intermodal full loads. Both ECS supply chain and ECS intermodal door-to-door transport have been further expanded. We focus on warehousing, innovative transport modes and cross-docking services."
With the acquisition successfully completed, ECS is looking ahead to an increase in scale in the rest of Europe. Closer to home in Zeebrugge, the merger of the ports of Zeebrugge and Antwerp offers opportunities for ECS, an integration that reminds Pieter Balcaen of his own company reform. "I see major advantages in this. Antwerp is an important rail hub for us, with good connections to the rest of Europe. Moreover, the scale of the port of Antwerp is greater. Since the merger was announced, we have seen more gigantic ships moor here to unload goods. Sailing to Antwerp takes time, which they save by unloading in Zeebrugge. We look forward to delivering these cargoes continentally in order to achieve further optimisations: corporate social responsibility is always at the forefront for us."
10,000 containers
The strengthened ECS can immediately celebrate a milestone: the fleet currently comprises 10,000 containers, including 2,000 refrigerated containers, the so-called reefers, for the TCL (temperature controlled logistics) market. "If you had told me that ten years ago, I would never have believed you," echoes an elated CEO. "We remain committed to socially responsible transport in the future, taking as many empty containers off the road as possible and shifting as much transport as possible from road to rail, by now some 70 million kilometres a year or already more than half of our total kilometres! Using the railways is our way of significantly reducing CO2 - by as much as 80%."